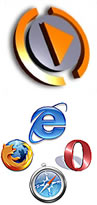 Ripefruit is an Australian IT services provider and publisher based in Melbourne, Australia.

IT services include web based advertising, hosting, software installation and domain name registration.

Learn more about the specialist services we provide by visiting the links below.


HOSTING & EMAIL SERVICES
Hosting on the fly... | Support
AUSTRALIAN DOMAIN NAME SPECIAL
com.au - AU$60 + GST 2 Years Registration

PUBLICATIONS
Advertising & Listings...

SOFTWARE
WordPress Installed and ready to go!



Customer Quick Links

Billing Login | Customer Support | WordPress